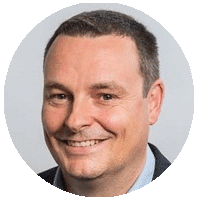 Andrew Frame
VP Business Development, Secure Thingz
Andrew Frame, VP Business Development at Secure Thingz, is responsible for advancing the IoT security technology roadmap and evolving the implementation of innovative new business models, with accountability for driving marketing and business strategies to enable the market success and adoption of Embedded Trust security software tools and the roll out of Secure Deploy technologies into the IoT, connected and embedded market space.
Prior to joining Secure Thingz, Andrew held senior IoT business development, product marketing, and commercial roles in over twenty-five years in the Embedded and IoT industry, with twenty-three years of that experience at Arm, focussed on the IoT/Embedded microcontroller industry and related software development tools market space. Prior to joining Arm, he was an Embedded Software Engineer at GEC Plessey Telecommunications and holds a BSc (Hons) in Computer Studies from Sheffield Hallam University.
ABSTRACT
"Building the optimal level of IoT device security into a connected product – an OEMs guide"
Those dreaded words from Product Management, 'Oh, and make sure it's secure' strike fear
into a developer, as if the timescales and complexity aren't challenging enough already!
This talk will guide the audience through the security challenges facing OEMs and give clear
guidelines as to how a product can be made secure enough to meet the evolving security
and market requirements of an application.
Starting with first steps, this talk will describe how to determine what level of security is
required in the product – not everything needs to be locked down like Fort Knox or the
Federal Reserve, and it's imperative to get the security balance correct to ensure the ROI
and business success of a product. It will detail various mechanisms for achieving this
knowledge and how they can be applied to microcontrollers already shipping in volume
today, along with an understanding of newer devices that offer higher levels of security for
more advanced market needs.
The talk will describe a typical workflow for implementing a secure design and ensuring the
meeting of the OEM product, market, and security requirements, and highlight an inproduction
example of a complete workflow for taking a secure device to market and
ensuring the supply chain security requirements can be met.