Katerina Megas
Program Manager, NIST Cybersecurity for IoT Program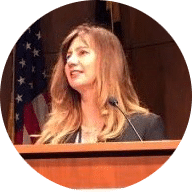 Kat Megas is Program Manager for the NIST Cybersecurity for Internet of Things (IoT) program. With a Masters in Information Systems, PMP and ScrumMaster certifications, she has over 25 years of experience developing and leading technology and corporate strategies for organizations in both the private and public sectors. She has over 25 years of experience working in a wide range of technology areas ranging from organizations' development and execution of identity, enterprise resource planning strategies to achieving their CMMI certification. She loves traveling and appreciates her wonderful colleagues who cover for her at work while she piles her family into a minivan taking road trips across Europe and the U.S. in search of the non-touristy experience.
ABSTRACT
"When one size solution doesn't fit all"
With connected devices becoming more and more ubiquitous, attention is being focused both in the US, as well as globally on addressing the challenge, creating policy drivers that can accelerate the adoption of better practices, but can also lead to fragmentation of markets. NIST will discuss some of the drivers for IoT device security in the US, how the IoT security challenge is a global issue and how NIST is helping the US Federal government lead by example.