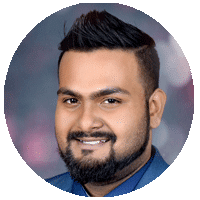 Satyajit Sinha
Senior Analyst, IoT Analytics
Satyajit Sinha is an Industry Analyst with 7 years of experience, currently working as Senior Analyst at IoT Analytics, dedicated as Strategy Consulting professional specialized in IoT, Cyber-Security, and Smart Device Ecosystem. Prior to joining IoT Analytics, Satyajit was a Research Analyst in the Counterpoint Research.
Played a pivotal role in supporting global IoT players for forming market/solution strategies, dedicated to IoT, Mobility, Cyber-Security, and Smart Device Ecosystem. As Industry Analyst, Satyajit leads the IoT team and created research services for IoT, security, mobility, and emerging technologies. Furthermore, He has authored many IoT industry reports, articles and press releases that are widely quoted by global media houses including Reuters, Forbes, Fortune, etc
ABSTRACT
"The Evolution of Chip to Cloud Security and Future Threats"
IoT promises an ecosystem where the connected devices will share massive amounts of data. Many of these devices are becoming intelligent with ability to analyse and implement actions. However, there is a simultaneous need to secure these devices from malicious attacks. This needs the provision of robust hardware and software at the device, in the network as well as in any cloud-level servers. We expect that AI, Machine learning and, potentially, blockchain, will emerge as valuable solutions to protect IoT data. However, before that lets fact-check the current security landscape.
Traditionally, security circled around securing network and software applications. However, as more devices get connected to the internet, and threats arise, there is an unprecedented need to secure hardware alongside the data flow from edge devices to the cloud. Hence, integrating security across all four layers (hardware, software, network, and cloud) becomes vital for a secure IoT deployment.
Security and privacy are global concerns around IoT, irrespective of country. Security is one of the major roadblocks for IoT. However, in the past two years, we have seen the adoption of chip-to-cloud security due to an increase in awareness of the threats and its scalable solution. The end-to-end security will be critical to the success of any future IoT deployments to protect the asset as well as the data which, in most cases, is even more valuable.